U

PGRADE

O

PTION

Current owners of our Lightning Bug™ have the option to upgrade to the new model Lightning Bug Plus™ for $99.00 plus shipping.

Upgrading requires you to send your existing unit back to us. Upon receipt, we will replace the labels, install the new Lightning Bug Plus™ circuit board, and rebuild your unit. A new serial number will be issued, and the unit fully tested before shipping back to you. Please allow us 1 week after receipt of your old unit to complete the upgrade process. An automated email will be sent with tracking data upon completion of the upgrade.

As an added benefit, any Lightning Bug™ unit upgraded to the Lightning Bug Plus™ will automatically be included in our Limited Lifetime Warranty policy.

Shipping will be calculated based on the address data you submit with your payment (see below).


PAYMENT:
All of our payments are processed thru PayPal. You do NOT need a PayPal account to purchase from us - PayPal accepts all major credit cards with or without a PayPal account. .
IMPORTANT SHIPPING INFORMATION:
We ONLY ship to the following countries at this time: United States and territories including FPO and APO, Ameriican Samoa, Andorra, Bahrain, Belgium, Bermude, Bosnia and Herzegovina, British Virgin Islands, Brunei, Bulgaria, Canada, Cape Verde, Croatia, Czech Republic, Denmark, Estonia, Falkland Islands, Faroe Islands, Finland, France, Germany, Gibraltar, Greece, Greenland, Guam, Guernsey, Hong Kong, Hungary, Iceland, Ireland, Isle of Man, Japan, Jersey, Kuwait, Latvia, Liechtenstein, Lithuania, Luxembourg, Macau, Macedonia, Malta, Monaco, Montenegro, Netherlands, New Zealand, Northern Mariana Islands, Norway, Poland, Portugal, Qatar, Reunion, Romania, Saint Helena, Saudi Arabia, Serbia, Singapore, Slovakia, Slovenia, South Africa, South Korea, Spain, Sweden, Switzerland, Taiwan, and United Arab Emirates.
IMPORTANT NOTE: We are currently unable to ship to the United Kingdom -or- Australia until further notice. If you live in either of these countries or any country noted above and wish to upgrade your Lightning Bug™, we apologize for the inconvenience, but we do not have a solution at this time.
UNITED STATES:
OH residents must pay 7.8% sales tax and GA residents must pay 8% sales tax. All prices shown are in U.S. Dollars. All shipments to states and territories is via USPS Priority Mail or USPS First Class Mail, depending on item purchased. Expected delivery is typically 3-5 days for the continental U.S.. Tracking information will be emailed automatically at the time of return shipment.
Shipping Cost: $11.50
CANADA:
All shipments to Canada is via USPS First Class Mail. Expected delivery is typically 7-12 days. Tracking information is not available for Canadian shipments, however a confirmation of shipment will be emailed automatically when your order is processed.
Shipping Cost: $17.50
ALL OTHERS:
All other shipments will be via USPS First Class Mail. Expected delivery is typically 10-16 days. Tracking information is not available for these shipments, however a confirmation of shipment will be emailed automatically when your order is processed.
Shipping Cost: $21.50
CUSTOMS INFORMATION:
All shipments outside of the U.S. will include the appropriate customs forms, marked with the actual value of the shipment. Please don't ask us to mark items as 'gifts' or of lesser value. All duties and taxes are the responsibility of the buyer.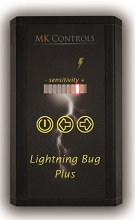 PLEASE NOTE:
Your upgraded Lightning Bug Plus™
will be shipped back to the address
you use when you submit payment.
RETURN INSTRUCTIONS:
Upon completion of payment, please return your Lighting Bug™ (no cables or batteries please) to the following address:


MK Controls, Inc.
Product Upgrade
5804 Old Valdosta Rd.
Nashville GA 31639
USA
BOXING AND SHIPPING:
Please box your product carefully! We are not responsible for shipping damage.
Use a crush-resistanc box, and use bubble wrap or similar cushioning withing the box.
Please do NOT use a padded envelope, or a USPS Small Flat Rate Box (5-3/8" x 8-5/8" x 1-5/8").
Please ship via a trackable service, such as USPS Priority Mail, UPS or FedEx.
All shipping fees are your responsibility - MK Controls, Inc. will not reimburse shipping charges without prior approval.
UPGRADE RETURN POLICY:
The Lightning Bug Plus™ is designed for years of trouble-free service, and MK Controls Inc. stands behind our products. Since this purchase is for an upgraded product, after completion, there is no way to "downgrade" your product to the original form, therefore we cannot create a return policy for an upgraded unit. However, please note that all upgraded units are warranted for the life of the product. Please see
http:http://www.mkcontrols.com/lightningbug/warranty/
for complete warranty information on the Lightning Bug Plus™